Binette Rock Shelter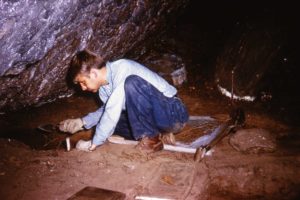 Binette Site: An unusual rock shelter in Naugatuck, the Binette site was one of Connecticut's first "motels".  Binette is a good example of human use of natural features for short-term housing.
Excavated by the Greater New Haven Archaeological Society under the direction of professional archaeologist David H. Thompson, Binette was used to harbor travelers from Paleo-Indian hunters ca. 10,000 years ago to English surveyors in the 18th century.  
Native American artifacts from Binette include a Paleo-Indian fluted point, Late Archaic Vosburg point, Late Woodland Levanna point, and Contact period Shantok-like pottery.  They show that peoples from earliest human settlement through the post-contact period continued to use the shelter as a temporary refuge against the natural elements.
Colonial artifacts from the Binette site included kaolin clay pipe fragments.
Citation:
David H. Thompson
1969 The Binette Site, Naugatuck, Connecticut.  Eastern States Archaeological Federation Bulletin 27/28:14-15.
2007 Personal communication.