Fort Shantok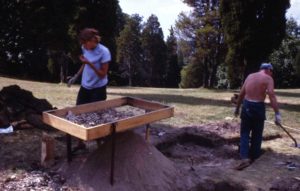 Fort Shantok is a historic Mohegan site located in Montville, CT consisting of a fortified village and nearby cemetery. It was excavated in the 1960s and early 1970s by New York University under the direction of Dr. Bert Salwen. Fort Shantok was the center of the Mohegan tribal authority during the 17th and 18th centuries and the scene of a number of important events in the tribe's history. Intense wampum manufacturing at Fort Shantok likely helped to promote the Mohegan's political rise and reinforced a strong alliance with the English. Under Uncas' leadership, the Mohegan entered into several treaties with the English and during the Pequot War of 1637, Mohegan warriors joined with English troops and their indigenous allies to help defeat the Pequot.
Archaeological evidence from Fort Shantok provides insight into indigenous cultural change and adaptation as a result of heightening Mohegan-European trade relations. Many artifacts, such as the reworked iron nail pictured below, were European trade goods that Mohegans appropriated in order to conform to their traditional customs. Fort Shantok was considered to be a Connecticut state park until the Mohegan Tribe was federally recognized in 1994. Since then, the state of Connecticut returned the land to the Mohegans and it has been established as a National Historic Landmark.
Fort Shantok also provided important insights into indigenous cultural change and adaptation as a result of Mohegan-European contacts. Shown below are several items bartered from Europeans and adapted by the Mohegans for use in traditional activities.
Distinctive early post-contact Mohegan pottery called Shantok Incised were found by archaeologists. Some archaeologists believe that the pottery style is a cultural marker for the Mohegan/Pequot peoples, who prior to the 1630s had comprised one tribe. Others believe it represents an extra-tribal social group that inhabited southeastern New England. Note the designs resembling corn ears and female genitalia, which some archaeologists interpret as symbolizing both food and tribal fertility in a time period when American Indian peoples were losing their political independence, economic success, and experiencing great population losses caused by European diseases, wars, and poverty.
Shantok was a center of wampum manufacture, an activity that could generate wealth, social status, and political power and which probably helped promote the Mohegan tribe and its sachem Uncas' political rise and strong alliance with the English at the expense of other tribes. Evidence for wampum manufacture at Shantok can be seen in the sandstone blocks, white columns, and multitude of wampum beads found at the site. Other artifacts found include a rusty jaw harp, fragments of clay pipes, charred corn, cracked quahog, and whelk shells.
Citations:
Margaret Bruchac
2014  Of Shells and Ship's Nails. On the Wampum Trail: Restorative Research in North American Museums, Retrieved from https://repository.upenn.edu/anthro_papers/103
Lucianne Lavin
2007  Connecticut Connections: Places to go to Learn about Historical Archaeology, Connecticut History.  
Bert Salwen
1970  Cultural Inferences from Faunal Remains: Examples from Three Northeast Coastal Sites. Pennsylvania Archaeologist 40(1-2)1-8.
Lorraine Williams
1972  Fort Shantok and Fort Corchaug: A Comparative Study of 17th Century Culture Contact in the Long Island Sound Area. Ph.D. dissertation, New York University, University Microfilms, Ann Arbor.  
Lorraine E. Williams, Kevin A. McBride, and Robert S. Grumet
1997  Fort Shantok National Historic Landmark. Bulletin of the Archaeological Society of Connecticut 60:29-42.